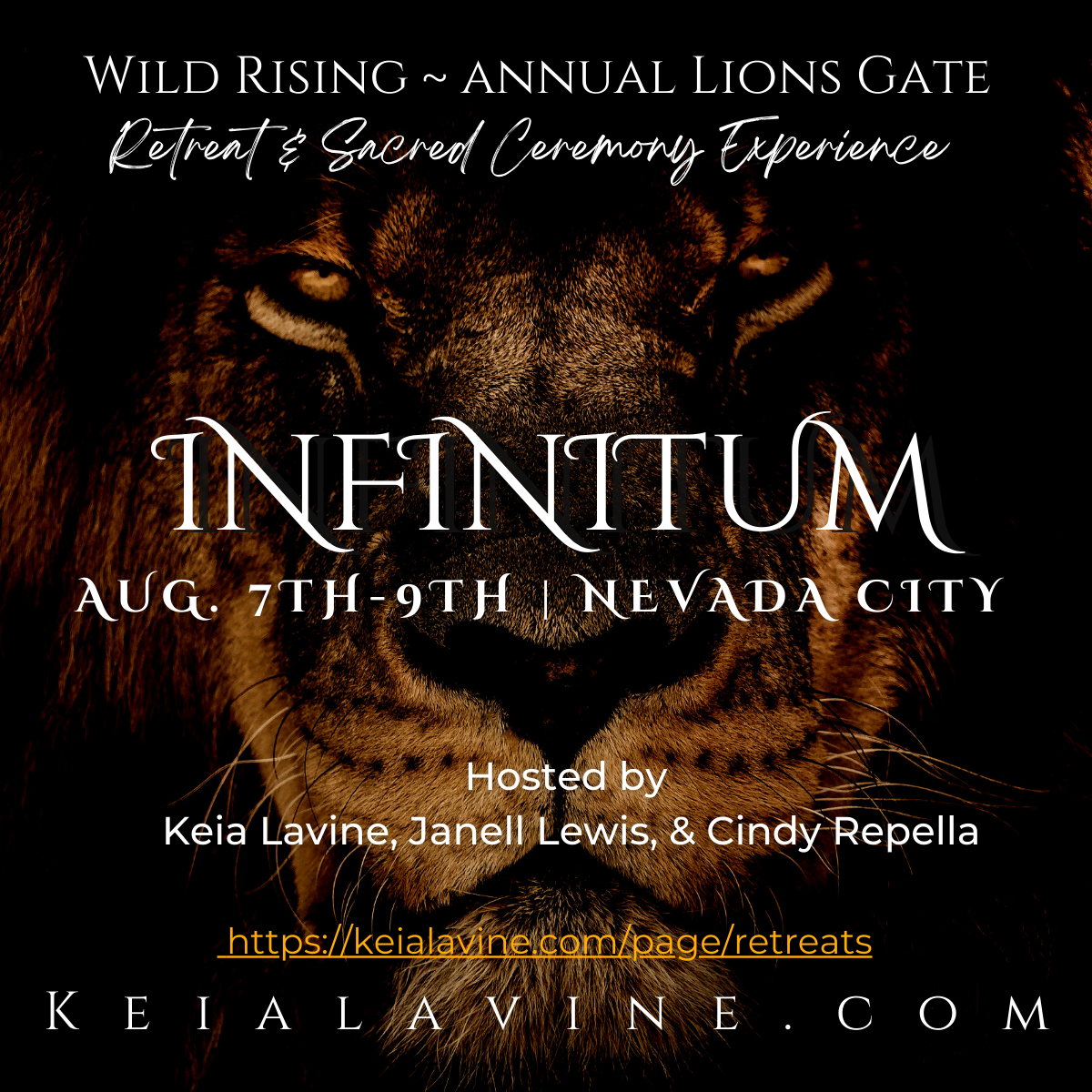 Aug 07, 2023 02:00 PM

–

May 09, 2023 04:00 PM

Mountain time

You are invited to an extraordinary Lions Gate Portal Retreat experience in Nevada City at the mystic gardens retreat center.
This is a very special retreat with only 13 spaces available. Celebrating the most powerful manifestation time in the year, we will move through an incredibly guided journey of learning how to harness your energy to its fullest capacity.
Lions Gate is the portal of creation & eternity, and together in this one-of-a-kind retreat, you will be taught how to harness every drop of the energy to set your energy on a trajectory of dreams manifestation - To the infinitum...
3 days ~ 2 nights, Shamanic Awakening Retreat Only 13 spaces are available.
Retreat & Sacred Ceremony Experience.
Rise into spiritual mastery in the 7th dimension infinitum activation and Lions Gate portal manifestation.
INFITITUM: to infinity; endlessly; without limit. Register Below
Sacred Ceremony with ancestral plant Medicine Sacred Songs/ Authentic Dream Catcher Creation Workshop / Breathwork/ Guided Journey/ Somatic exploration, the sacred fire, and a powerful deep dive into the shamanic arts of alchemy.
Details
Aug. 7th-9th
$444 Per person
Nevada City, CA
Mystic Gardens Retreat Center
Room Included & Meals Included
Airbnb bed accommodations,
tipi sleeping experience available,
August 7th: arrival by 2 pm, opening fire by 5 pm, dream catcher workshop & cacao ceremony.
August 8th AM: Lions gate portal breathwork and movement.
August 8th PM fire ceremony plant medicine.
August 9th: Ceremony of dreams, integration circle, somatic exploration, and closing.
***August 9th & 10th Private Ceremony Sessions Available. Please contact me directly.
Hosted by
Medicine Woman Śak Nïkté & Shamanic Practitioner Cynthia Repella
Pictures of the Mystic Gardens Retreat and Airbnb Center located in Nevada City.
Find out more about the Retreat Center here: